LETS DISCOVER ONE OF THE WORLD HERITAGE ON HALONG BAY CRUISE.
Apr 24, 2018
Halong Bay is an UNESCO World heritage site.  It's wonderful if we discover the most beautiful islands of towering limestone dotting the bay on a Halong Bay cruise. Numerous cruises have now eschewed the main bay and head to more hidden parts of the complex where the charm of limestone towers, islands and islets boast caves, caverns and grottoes are still await to be discovered.
The best time to go on a Halong Bay Cruise is in the periods March – May and September – November since the temperature is pleasant and the dry climate will enable you to enjoy all activities on board as well as the sightseeing will be as ideal as it could be. Other than that, going on a Cruise to Halong during June – August would be more suitable with budget concerned travelers since it's considered low season at the time. Many cruise providers offer major discount during these months, however there's some possibilities of cancelation or delaying the trip due to the storm and hurricane.  Yet these storms normally last no longer than 3 – 4 days.
Joining the cruise, you will be visiting the floating villages, the travelers will experiment an interesting feature of the daily life of Halong Bay locals. Differ from us, the fishermen live a life surrounded by water, rising and falling with the natural tide, and the source of living depends on the diversified supply of the marine life. Meeting them give the visitors a chance to observe a completely distinctive life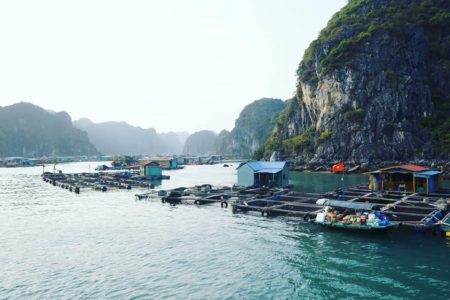 The itinerary goes on, there is a lot of caves, grottoes and islands to discover, some of the charming hidden germs can be reached by row boats are Thien Cung (Thiên Cung) Cave, known as Heavenly Palace Cave, which is well-known for its stalagmites and stalactites, and Dau Go Cave (Hang Đầu Gỗ), which is known as the Cave of Wonders. Cat Ba is considered as the largest island in Halong Bay, some of the cruise with 3 days will reach the island and give you the chance to explore those hidden waterfalls, grottoes and lakes. There are endless options to experience in this island in your way.
Kayaking in Halong Bay is very easy to take part in for every tourist, even adventure kayaking. The adventure kayaking will be hold in some of the most beautiful places in Halong Bay with mountain surrounded, beaches and water tunnel cave. The most common places are 3 Peaches islets, Dark and Light Cave. Adventure kayaking often offers tourists the option of 2-3 day tours
There is nothing more enjoyable than a nice meal after a long day of kayaking and swimming. Lunch and dinner are offered on board with delicious special dishes. Some cruises even enhance the pleasure by hosting a dinner in a certain cave.  It's so special to  have a diner in such a quiet, romantic and a little mysterious cave. Most tourists make use of this dinner for their special occasions such as a romantic anniversary, birthday party.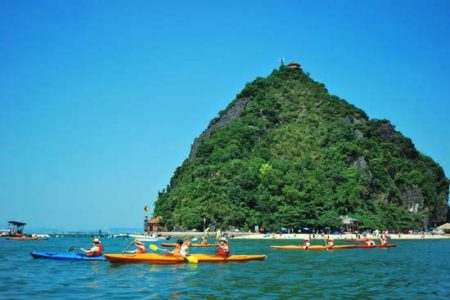 Last but not less, when it comes to nightlife when going on a Halong Bay Cruise, squid fishing gives tourist great pleasure. During the squid season, under the sparkling surface of water, seeing many large shoals of squid surrounding cruisers and being able to catch them give tourists the most excitement and feel of great achievement.