The Guide Awards 2014 – 2015
Apr 10, 2018
The Guide Awards is an annual event organised by The Guide magazine ( Vietnam Economic Times), recognising the achievements and contributions of enterprises, organisations, individuals, and localities to the country's tourism development.
First held in 1999, The Guide Awards is sponsored by the Vietnam National Administration of Tourism and the Vietnam Economic Association. The Awards have gained in prestige over the years and earned recognition and appreciation from tourism enterprises and State management agencites.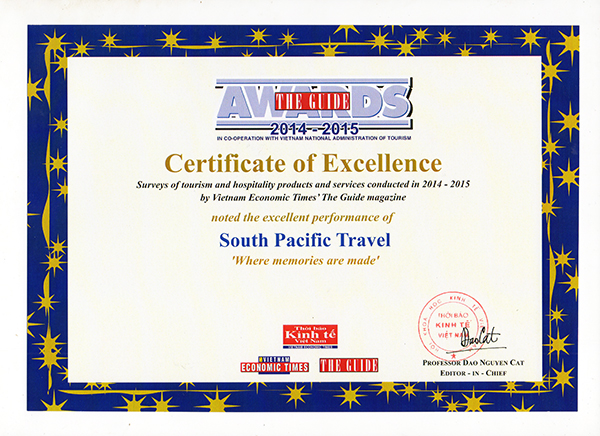 The Guide Awards 2014-2015 was held in Ho Chi Minh City , the largest tourist gatway in the country.
In the 16th annual the Guide Awards – For a friendly Vietnam, with the participation of Proffessor Duong Trung Quoc, Kyo York- MC, singer and John Hung – the author of " John finding Hung", had discussed about the hopitality of Vietnames people.
Kyo has lived and worked in Vietnam for 3 years, he shared his experiences when he " touches" local culture , local people, local habits, local behaviours. He finally found Vietnamese are very friendly.
While John Hung discoverred Vietnam is a hospitality destination by another way – travelling through Vietnam in 80 days, equipped with only the necessities and no money, replying on the kindness and hospitality of strangers he met along the way.
Those interesting sharings are contributed to improve the clients' belief on their choice – Vietnam is good destination for adventure/leisure /honemoon/culutural/ historical tours for you and your family.
We pround that we – South Pacifcic travel & Halong Phoenix cruiser has won the "Travel Guide Awards" for 6 consecutive years for outstanding contributions to Vietnam's tourism.
South Pacific Travel was established in 2002, we have grown rapidly into a family of more than 80 members.To ensure that our team always progresses we aim for excellence in achieving the goal ofdeveloping the best vacations for our clients. We offer a variety of "tailor-made" Vietnam, Laos and Cambodia tours according to your desire and interests. We show the best these countries have to offer, whether selecting a boat cruise, in-depth mountain to sea itinerary, biking and kayaking, adventure or cultural or natural discovery tour. We also provide a range of travel services including customized trips, as well as booking for hotels, trains, and air tickets.
On a South Pacific Travel trip, travelers are immersed in the local life and inspired by a perfect blend of physical activity and cultural awareness. You will be able to learn about Vietnam, perhaps challenging the way you think about Vietnam, develop an understanding of Indochina and its diverse people from a new perspective and perhaps learn more aboutyourself. Come and make precious travel memories with us.